About Essex County Airport
Essex County Airport – KCDW – has been owned and operated by the Essex County Improvement Authority since September 5, 1975. The ECIA is governed by a seven-member Board of Commissioners appointed by the County Executive, Joseph N. DiVincenzo, Jr. with the consent and approval of the Essex County Board of Chosen Freeholders.
The airport is located entirely in the Township of Fairfield in Essex County, New Jersey. CDW is a general aviation facility whose campus is situated on approximately 278 acres of land. It is located 20 miles west of New York City and 10 miles west of Teterboro Airport. CDW is easily accessible from Highways 23, 46, 80, 280 and 287. Public transportation to the airport is also available from the Port Authority Building in NYC on 42nd Street via the Lakeland Bus Company.
CDW is designated as a reliever airport for the New York/New Jersey region by the Federal Aviation Administration. CDW is a towered, Class D airport located under the 3000' floor of New York's Class B Airspace. The control tower operates from 0700 – 2300 hrs. The Frequencies are Tower: 119.80 / Ground Control: 121.90 / Clearance Delivery: 121.10/ ATIS: 135.50 Caldwell provides pilots with two asphalt runways, 4/22 and 10/28. Runway 4/22 is 4552' x 80` and runway 10/28 is 3719' x 75' which have RNAV (GPS) and Localizer approaches. Runway 10/28 has medium intensity runway lights. Runway 22 has high intensity runway lights and a four light Precision Approach Path Indicator or PAPI lighting system along with a two strobe Runway End Identifier Lighting System or REILS.
There are currently a total of 252 outdoor, hard surface tie-downs and ten T-hangar buildings. These ten buildings provide a total of 98 individual T-Hangar units at CDW. Of the 98 units, 45 are large and 53 are standard size. The standard sized T-hangar can fit most single engine aircraft and some light twins such as a Piper Aztecs, Beechcraft Barons, Cessna 310's and similar aircraft. The large T-hangar units can comfortably fit Cessna 400 series aircraft, Conquests, Piper Cheyenne I and II's and up to TBM 850s and similar aircraft.
CDW has five conventional hangars which total approximately 60,000 square feet of hangar space. These hangars are used by fixed-based operators and other aviation related tenants for aircraft maintenance, storage, sales, leasing, charter and flight training. Air Bound Aviation is the FBO which provides transient parking and fuel services along with a plush, comfortable pilot lounge with many amenities.
Be sure to visit the Essex County Airport Operations Trailer at the base of the control tower. We're open 24 hours a day! We offer a small flight planning room with computer access and even complimentary coffee! We also provide a free high speed internet connection with WI-FI access. We have online weather radar, duat access & lots more!
Essex County Improvement Authority Board of Commissioners
Steven H. Klinghoffer ~ Chairman
Gerard M. Spiesbach ~ Treasurer
Ronald J. Brown ~ Vice Chairman
Carla A. Stanziale ~ Secretary
Gerard M. Spiesbach ~ Treasurer
Mark S. Dunec ~ Commissioner
Clifford Ross ~ Commissioner
Jacqueline Yustein ~ Commissioner
Essex County Improvement Authority
Steven C. Rother ~ Executive Director

Lucy Sapinski ~ Director of Operations
Joe Cali ~ Sr. Project Manager / Accounts Receivables
Betsy Williamson ~ Administrative Assistant
Essex County Airport
Tom R. Gomez ~ Airport Manager
1955 Born in Dominican Republic
1973 Came to United States on November to reunite with his mother and three sisters
1975 Joined U.S. Army as an Air Defense Artillery Technician
1978 Returned to Paterson and enrolled at the Teterboro School of Aeronautics to become an Airframe & Powerplant Aircraft Mechanic.
1979 Joined the Essex County Airport to work as an aircraft refueler.
1980 Graduated from the Teterboro School of Aeronautics in April.
1980 November: Joined The U.S. Air Force Reserve as a Jet Engine Mechanic at McGuire Air Force Base in NJ.
1981 Obtained F.A.A. Private Pilot License.
1982 July: Promoted to Operations Manager at the Essex County Airport. September: Obtained F.A.A. Commercial Pilot License with Instrument & Multi-Engine Ratings.
1983 Commenced training in the U.S. Air Force as a Flight Engineer in the C-141B Starlifter Transport Aircraft.
2000 Promoted to Airport Manager of the Essex County Airport.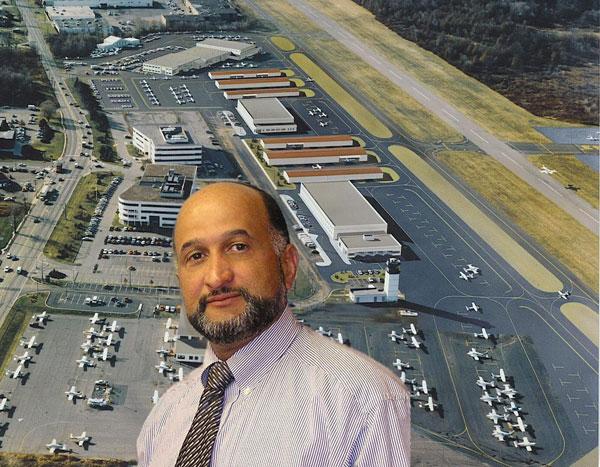 Carlos Peralta ~ Deputy Airport Manager
Herb Perez, Jr. ~ Operations Manager
Airport Service Technicians:
Manny Aristy
Tom Ciborowski
Martin Gomez
Angel Popa
Breilyn Rodriguez
Kevin Sands
Eric Schlemmer
Asiah Willis